At a time when black Americans are twice as likely to die of Covid-19 as their white counterparts while a reckoning continues over ongoing police brutality, a new group exhibition is opening to tell the story of black grief in America, from the 1960s to present day.
Grief and Grievance: Art and Mourning in America opens 17 February at the New Museum in New York City, featuring 37 artists whose work ties into loss linked to racial violence – including artworks by Jean-Michel Basquiat and Carrie Mae Weems, among others.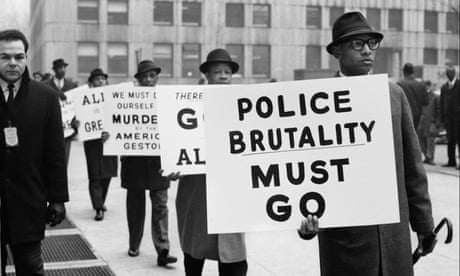 'His work is a testament': the ever-relevant photography of Gordon Parks
The exhibition was first conceived by the Nigerian curator Okwui Enwezor, who died in 2019 at the age of 55, after a career of championing black artists. "Okwui conceived this exhibition before the killing of George Floyd," said the New Museum artistic director, Massimiliano Gioni. "The situation was unbearable long before that. He made a statement before others, but he was clear-eyed and saw what was happening in America for a long time."
Gioni is co-curating the exhibition in his memory alongside Naomi Beckwith, the newly appointed deputy director of the Solomon R Guggenheim Museum in New York, as well as artists Glenn Ligon and Mark Nash.
It all started in 2018 when Enwezor began to organize in relation to a talk series he was developing at Harvard University around black mourning and white nationalism in America. Enwezor wanted to debut the exhibition around the same time as the 2020 American presidential election, as an outcry for democracy under the Trump administration (it was then pushed back by the pandemic).
It features moments of political action linked with mourning in American history, with artists such as Kara Walker, Lorna Simpson and Hank Willis Thomas, a painting by Mark Bradford, photos by LaToya Ruby Frazier, a sculpture by Simone Leigh and a video by Arthur Jafa.
February 4, 2021